Campaign Strategy Overview - My Facebook Strategy
Posted on
In my last post, I talked about how my strategy behind this website. Now I want to discuss the strategy behind my Facebook page.
I created my Facebook page on February 23, 2021. Honestly, I should have created it much sooner than that - a year earlier, perhaps, when I interviewed for the open Ward 3 council position.
The name of my Facebook page was Joseph Hendrix, Candidate for Ward 3, Huber Heights - my name first, then what I was running for. I felt that name recognition was more important than the position, at least when getting things in front of people's eyes.
The URL is important, too. The Facebook URL is https://www.facebook.com/Joe4HuberHeights/, which mirrors the domain of this website (https://www.joe4huberheights.com). This reduces any "cognitive load" (that is, how hard someone has to think) for anyone to distinguish between the two.
Events
Part of my Facebook strategy was to have two events - namely, the Deadline for Voter Registration for the May 4 Primary Election on April 5, 2021, and Primary Election Day on May 4, 2021. This allowed me to share these two very important happenings, and have my page attached to them.
I also made sure to put my Huber Heights Community Cleanup as a Facebook event. This event was also posted on this website as well as plenty of other places.
Ads
I created two ads - one ad for the Deadline for Voter Registration for the May 4 Primary Election and one for the Primary Election Day. You can see a summary of these events in Facebook's Ad Library. (Note that the Ad Library shows three events - two of which are for the Primary Election Day event. I made a few mistakes with one of them and the ad never ran.)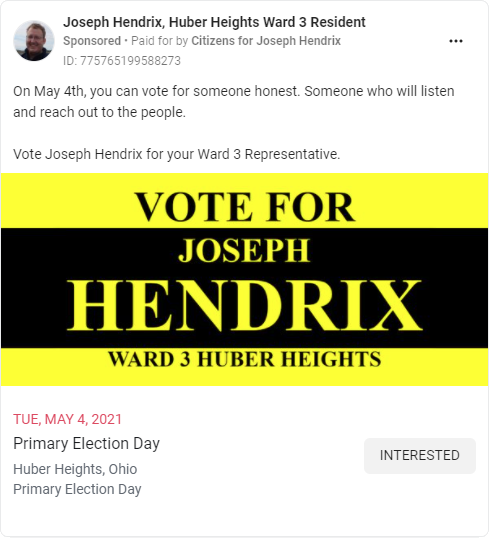 What's interesting about these ads - since I was running an ad that was aimed at affecting an election, I had to get approved. This involved Facebook snail-mailing me a code to my address, which I then had to enter on Facebook. I also had to name the committee that I created for my campaign (that committee being Citizens for Joseph Hendrix).
The Audience
With Facebook, you can specify an audience. Sometimes, this audience is based on interest, such as dogs, or job title, such as software engineer. You can also specify an audience by geography - such as country, state, or even city.
I got a little more specific than even city. I live pretty central to my ward, so I narrowed down the audience to anyone within one mile of my address.
The Cost
I spent $20 on each ad - $40 total. You can see both of these expenses on the expenses section of this website.
The Results
Here are the raw numbers for the results from each ad:
Deadline for Voter Registration for the May 4 Primary Election
Event Response: 2
Reach: 614
Post Engagement: 19
Link Clicks: 13
Audience:
62.6% Women, 37.4% Men
Mobile App: 584
Desktop: 40
Ohio 614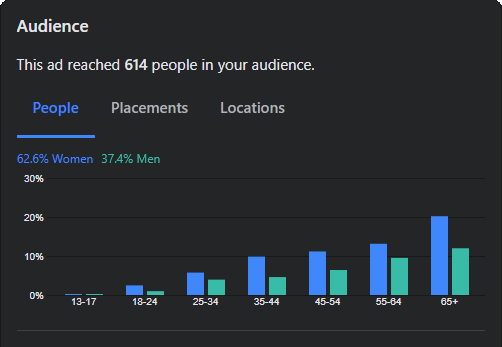 Primary Election Day
Event Response: 4
Reach: 567
Post Engagement: 16
Post Reactions: 5
Link Clicks: 10
Audience:
70.7% Women, 29.3% Men
Mobile App: 584
Desktop: 40
Ohio 614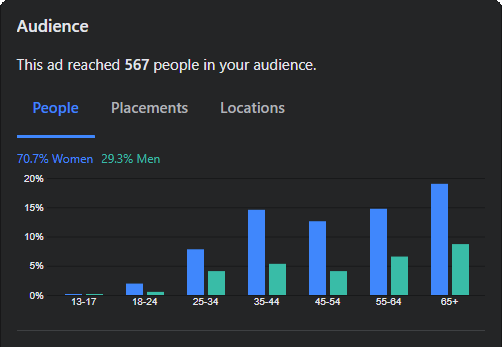 Sharing to Groups
I also shared my events and other posts to local Facebook groups.
These groups were:
They're private groups so you may not be able to see what's happening if your not a member.
But what was great about sharing to these groups was that my posts got more exposure and views - for free! - than from paying for ads.
Watching Other Pages
One this Facebook allows pages to do is watch up to five other pages.
Of course, I decided to watch the page of one of my opponents - Frank Wylie. My other opponent - Kathleen Baker, the incumbent - doesn't appear to have a Facebook page.
Does that mean I left the remaining four spots unwatched? Absolutely not! It just so happens that in this election cycle, there was a three-way race for mayor. So I watched each of the mayoral candidate's Facebook pages: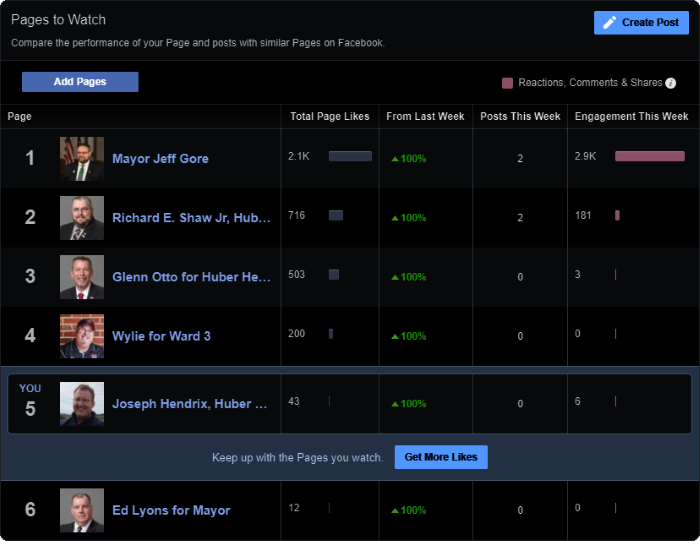 Aftermath
With the primary election, only two people could continue to the general election.
I came in third, so I renamed the page to Joseph Hendrix, Huber Heights Ward 3 Resident. Fun fact: Facebook had to approve the name change, although they did so almost instantly.
I've yet to change my header image - I will as soon as I think of something. But I will continue to share my thought on this page, and share things on my Facebook page as well.